All Bundy Shoes by Finijo

After Connor finished tutoring, we took Steve to the Harwin wholesale district today to shop. Funny how you take some things for granted. We shop there maybe twice a year, and never really think much of it, but today the first thing we saw when we pulled into the parking lot was a tour bus from Oklahoma. This shopping center is in a pretty seedy area and stores in the area are raided and shut down by the FBI every couple of years or so for selling counterfeit designer items. So, I guess I never thought it would be a draw for tourists from out of state. Who knew? Our favorite shop is Mulan, which has a lot of purses, clothing and bric-a-brac from China. We've never been in, but the All Bundy Shoes sign always makes us chuckle. It's a neat area and the prices are low, but I always feel a little bit like I need a shower when I leave. The desperation of the merchants in most of the shops is palpable.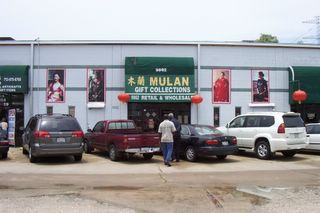 Mulan by Finijo

We continued our shopping at the new Fry's off 59 between West Belfort and Wilcrest. I found the future (very near future) case for my Dual Deck 2. It is actually a CD Album, but it's the right size and I think I can convert it without too much effort. Since Steve successfully installed the Dual Deck 2 as an external drive, instead of as an internal drive, I think I can successfully turn a CD album into a drive enclosure. After Fry's we were hungry and stopped at Dimassi's for the Mediterranean buffet. Great food, but perhaps it was too good, because many hours later, we are still not hungry. After an early evening nap, Steve and I returned to Fry's to exchanged the game he bought for his PSP earlier in the day, then we went to Home Depot and Steve bought me a rotary tool so I can route the back of my new drive enclosure, so the wires will fit. Happy birthday to me! I got a new power tool! The only thing missing was Steve's girlfriend, Gina.We know she'd love the shopping and we all hope she'll come for a visit soon.