Cherub Fountain by Finijo

We met Steve and team at
Buca di Beppo
for dinner. We had a wonderful dinner of caesar salad, pizza arrabbiata, salmon and artichokes with a light creamy mustard sauce, eggplant parmesean, and garlic mashed potatos. For desert we had chocolate covered canoli. We all reek of garlic, but we really enjoyed the dinner!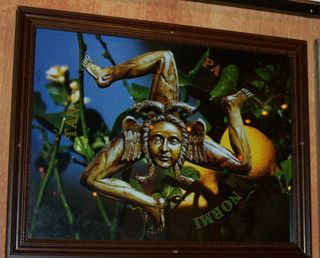 Normi by Finijo

\
There are over 2,000 pictures on the walls of this restaurant according to the schpiel the hostess serves up as she gives you the tour of the restaurant. They start you off by walking you through the kitchen, in part because it is cool, but also to show how clean it is. There is even a table you can reserve in the kitchen - touted as the best seat in the house. They walked us past The Pope Room and The Wine Room, settling us in The Frank Sinatra Room.
Sinatra Room by Finijo

To say they decor is kitschy would be an understatement, but it is also a little raunchy and a lot of fun. Even though Buca di Beppo has been franchised and can be found in several states, we still love the food and the atmosphere.