I never thought I would want to laud a television network (especially one that is connected to the network that produces Fox News), but at the moment I think the
FX
network has some of the best original programming on TV. It's not just that they have a show or two that are good, it's more like they're on fire right now, and each show they produce is so well written, acted, and directed, they are all worthy of multiple Emmy awards. I have never seen so many unusual shows on one network. I have to guess that the two newest entries,

Starved

and

It's Always Sunny in Philadelphia

are too"in your face" to stay on the air for long, but I plan to enjoy them while I can.
Starved

Starved
, one of the two new comedies showing on FX, is being protested by the
Academy for Eating Disorders
for dealing with the serious subject of eating disorders in a comedy. I understand that eating disorders are serious, but I also believe much in life is serious, and laughter helps take the edge off. If you can get people to talk about subjects that are taboo (and believe me some of the stuff covered in this show is taboo), then at least there is dialogue. After watching the first two episodes of
Starved
, I can guarantee that nobody could watch the show and believe eating disorders are desirable. The characters are all pretty pathetic, but not completely without redeeming qualities. It's their character defects and the situations that they get into that are hilarious. To anyone calling for a boycott, I say watch the show before you judge it. It may be too gross for some people's taste, but it's definitely not dangerous.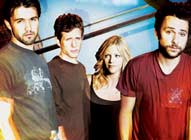 Sunny in Philadelphia

It's Always Sunny in Philadelphia
is a comedy that is set in a bar, but it's nothing like Cheers. In the first episode, the owners of the bar inadvertently allow it to turn into a gay bar, then struggle with the dilemma of keeping it gay and profitable, or going back to being an unprofitable pub. The second episode finds one of the characters trolling pro-life rallies for dates while another character deals with brat of a son he never knew he had. It's Always Sunny in Philadelphia is funny, but not as outrageous as
Starved
.
Nip/Tuck

Nip/Tuck
tells the story of two college friends, one a swinging single and the other a family man, who become high profile plastic surgeons in Florida. The show centers on how the moral ambiguity of their profession impacts their friendship and their families. With graphic sexuality in almost every episode, it is also both suspenseful and funny. The last season ended with a cliffhanger involving a serial mutilator, and there are plenty of scenes of surgeries that have all the vivid gore of
CSI
.
Nip/Tuck
is a riveting watch.
Rescue Me

Rescue Me
is a part drama, part comedy about fire fighters in post 9/11 NYC. Dennis Leary's character is rife with contradictions. He's an amoral, self-centered addict, but he tries to be a good father and he courageously risks life and limb to rescue strangers. He also has addictions to alcohol and pain killers and he sees/talks to dead people. In the last episode, he even took Jesus on a crazy car ride, to scare the hell out of him.
The Shield

The Shield
is a police drama that rivals HBO's prison series, Oz, when it comes to graphic violence. The protagonist is a cop who is capable of violence, but who also has a great capacity for self-sacrifice and loyalty. There are humorous moments in the suspense filled hour long series, but
The Shield
is currently the definitive gritty crime drama on the air.
Over There

Over There
tells the story of the war in Iraq from the soldiers perspective. I've never heard of a television series telling about a war that is in progress. Because it is about war, it has to be realistic and frank, but because we still have soldiers fighting in Iraq, it has to be handled as sensitively as can be managed. I think
Over There
has done a good job of balancing both the horror of war and the humanity of the soldiers who fight.
30 Days

I loved Morgan Spurlock's documentary,
Super Size Me
, in which he ate McDonald's food exclusively for 30 days, and the impact it had on his mind and body.
30 Days
is the documentary contribution to the line up. Using the intriguing premise of "changing your life in 30 days" Morgan Spurlock explores the Muslim religion, homosexuality, living on minimum wage, alcohol binging by college students, anti-aging therapies, and a host of other issues. I have seen 4 episodes of this show, so far, and they have all been fascinating.
I remember watching FX for the first time when it was running what seemed like non-stop reruns of the

X-Files

. Kudos to whoever turned FX into an innovative and edgy network, while its competitors continue to churn out

Law and Order

/

CSI

knock offs. I think it's great that FX is able to rise above its conservative roots and produce programming for adults who enjoy thinking and loath a laugh track.